Tioga Hardwoods, Inc. is pleased to announce that we have once again expanded operations at our Berkshire, NY location with the addition of 4 new dry kilns (260,000BF / 613m3 capacity). The kilns run on a wood waste boiler, which utilizes sawdust from our planer and optimizing gang rip lines. We have also added a new stacker line as part of the expansion.
Click Here to view the progress.
Since our inception in 2000, Tioga Hardwoods has quickly gained a reputation for our high quality products and strong commitment to customer service.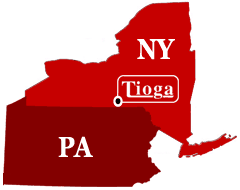 Located in the Northern Appalachian region near the NY/PA border, we have access to some of the finest hardwood resources in the world. There is no better source for good color and quality lumber than Cherry from Pennsylvania and Hard Maple from New York. These are two items in which we specialize. We are also producing other fine quality hardwood species such as Soft Maple, White Ash, Red & White Oak, Basswood, Hickory, Aspen and Yellow Poplar.
We take care when drying our stock to make sure that you receive a fresh, flat and straight product. We also take great pride in our packaging and presentation. When our stock arrives at your facility, we want to make sure that our bundles are the best looking packs in your warehouse.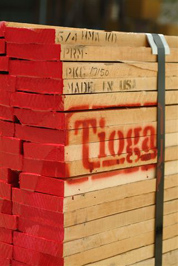 We are always willing to consider any special requests that you might have. Our size is one of our assets. We have large enough production to develop special items, yet small enough to maintain our versatility. Some of the specialty items that we are currently shipping are pulled to width strips and cut to size squares and dimension parts.
Our location also gives us easy access to major North/South & East/West trucking routes. We even have our own dedicated trucks to help ensure that you receive shipments on time. For export shipments, we are located less than 200 miles from the port of New York. It is also approximately the same distance to the Canadian cities of Toronto and Montreal.
We know that you have many choices when buying U.S. hardwoods. Once you have tried the

brand, we are confident that you too will come to appreciate our dedication to quality and service.
Tioga Hardwoods was featured in the September, 2009 issue of the National Hardwood. Click Here to read the article.
Thank you for your interest in Tioga Hardwoods. We look forward to hearing from you!
Copyright 2011©

Home | Stock List | Grading Rules | Species Guide
Associations | Directions | Contact Us